Disaster Relief Training 2023
There is no charge for the training.
Tuesday, October 19, 2022
The truck is on its way to Florida! Special thanks to the Church of the Promise and to George Sims!
Thursday, October 13, 2022
On Thursday we loaded out a truck of goods that will be shipped to Haiti including thousands of beautiful pairs of shoes and heavy duty vinyl for disaster relief.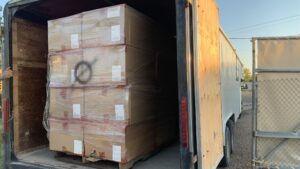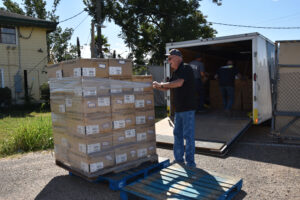 Tuesday, October 11, 2022
We loaded out another trailer of hand sanitizer, sanitary wipes, and masks for the Maplewood Baptist Church headed out with a team to Florida.
Tuesday, October 11, 2022
Thank you to those individuals and entities who so generously donated.
The following is an email from a family who received some of the relief supplies the team took to Florida.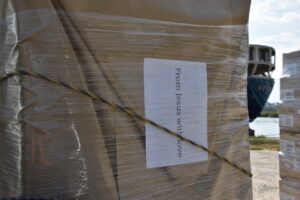 From Jesus With Love:
Yesterday was a day we will never forget. As we kayaked into our home for the first time 10 days post-Hurricane Ian we were shocked at the devastation. It felt like the word catastrophic took on a whole new meaning. We cried and we prayed. We resolved we would praise Him in this storm. As we were driving home from the shock of it all we received a call that someone at the church had some items for us. Little did we know that when we got to the church there would be a trailer of precious gifts there for us. Tears of sorrow were met with tears of joy as the amazing volunteers unwrapped our new refrigerator, washer, microwave and opened boxes of clothes for my kids to go through.
Thank you just doesn't seem like enough when what seemed like your greatest day of sorrow is met with one of our greatest days of love. But thank you for all who helped orchestrate this miracle in our lives. It certainly pushes past thank you and it cause for worship. Only Jesus can bring such hope on a day of devastation. He is worthy and may He get the glory in it all!!
All our love and forever grateful, The Emmert Family
Drew, Brenda, Mabel, and Finley
p.s. My daughter lost one of her favorite blankets in the flood in our home. It was pink, fluffy, full of unicorns, and glowed in the dark. And guess what… that EXACT blanket was in one of the boxes of gifts. He's. Just. That. Good.
Now all glory to God, who is able, through his mighty power at work within us, to accomplish infinitely more than we might ask or think. Eph. 3:20
Monday, October 3, 2022
This week, two of our team are heading out to work disaster relief in Florida. We plan to send hygiene supplies and vinyl roof protection with them. We are also loading out a shipment of vinyl and shoes to Haiti.
Wednesday, September 28, 2022
Friend Ships started off Hurricane Ian relief by providing sanitation and hygiene supplies to police officers from Iowa, Louisiana heading out to help fellow officers in Florida.
The Friend Ships team is ready to send a truckload of hand sanitizer and sanitizing wipes to the west coast of Florida, where in some areas there is currently no running water.  If you would like to be involved in this shipment, please donate funds for trucking.